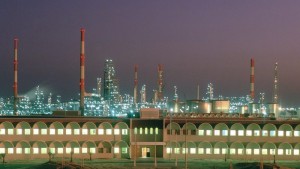 Saudi Basic Industries Corp. agreed to buy out Royal Dutch Shell Plc's 50 percent stake in a petrochemical joint venture for $820 million, marking the third project with Saudi Arabia's largest companies that the Anglo-Dutch company has exited since 2014.
Sabic will take over full ownership of the Saudi Petrochemical Co. venture, or SADAF, it said in a statement last week. The Middle East's biggest petrochemicals producer and Shell are ending their partnership earlier than its planned 2020 expiration, they said. SADAF has six petrochemicals plants with total production of about 4 million metric tons a year, they said.
Shell's acquisition of BG Group Plc last year has turned its attention to existing assets and is sending "mixed signals about its desired role" in the Middle East, Arab Petroleum Investments Corp., the investment arm of Organization of Arab Petroleum Exporting Countries, said in a report last week. Shell ended plans to build a $6.5 billion petrochemical plant in Qatar in 2015 and last year exited a natural gas venture in Abu Dhabi as the downturn in oil prices and the cost of developing the resources made those projects too expensive.
Last year, Shell broke up an 18-year refining partnership in the U.S. with Saudi Arabian Oil Co., known as Aramco, after halting investment in a natural gas venture with Aramco in 2014. Shell still has a refining venture with Aramco in the kingdom, according to the Shell website. Aramco may be valued at about $2 trillion in an initial stock sale planned for next year. Sabic is the largest company on the country's stock exchange by market value.
Downstream Projects
The sale of SADAF, based in Jubail in eastern Saudi Arabia, will allow Shell to focus on its downstream activities and to make "selective investments to support the growth of its global chemicals business," it said in the statement. Shell will look at potential opportunities with Riyadh-based Sabic, Graham van't Hoff, executive vice president for chemicals, said in the statement.
Saudi Arabia is targeting petrochemicals as one of the key industries to help transform its economy by developing new manufacturing and reducing reliance on crude oil exports for government revenue. The country has combined low-cost feedstock from domestic natural gas resources with technology from international partners to build joint venture plants.
Sabic plans to expand in the U.S. to tap ample supplies of shale gas there as some of its traditional markets weaken, Chief Executive Officer Yousef al-Benyan said.